O
ne hundred years since the famous Glasgow Rent Strike of 1915 and we're still battling the same housing crisis.
One hundred years ago the Glasgow rent strikers won the right to rent regulation and council housing. In the last thirty years we've lost those rights. Rent regulation was abolished by the Thatcher government and council housing was decimated by the Right to Buy and is now to be sold off to pay for another right to buy for housing associations.
Today, like then, we see a growing swell of housing protests.  An alliance forged by the austerities of insecure housing, benefit cuts and rocketing housing costs is uniting social housing tenants, private tenants, and homeless people in resistance to eviction, the squatting of empty housing and direct action against property speculators.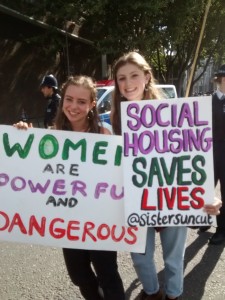 Inspiring groups like Focus E15 have crossed the boundaries of tenure between social housing and the private rented sector to campaign for security and affordability for all tenants. Campaign groups like Housing Action for Southwark and Lambeth help resist evictions and advocate on behalf of homeless people seeking council re-housing.